AISD: The Pride and Promise of Austin Film Premiere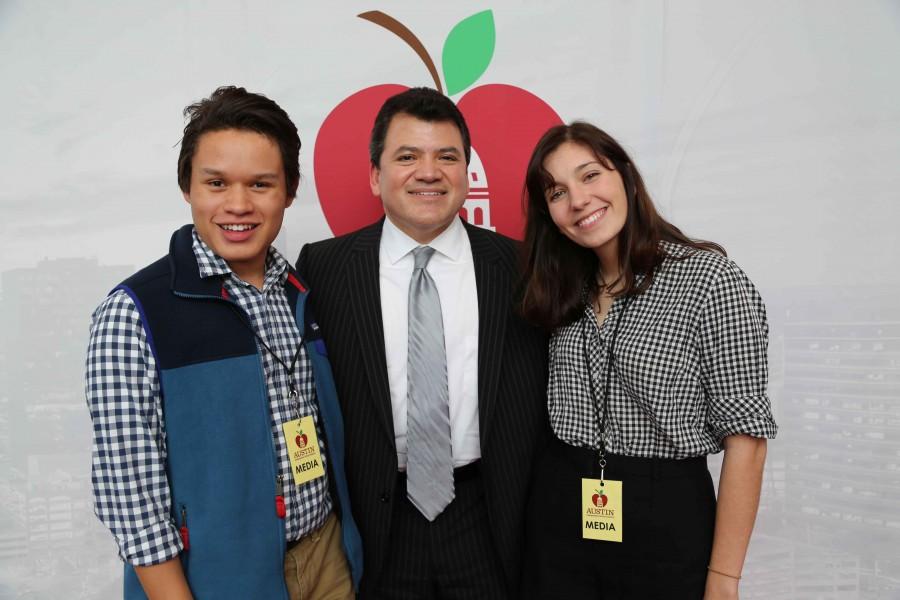 Sonny Stephens, Media Manager
March 13, 2015
Austin ISD premiered its student-made film, AISD: The Pride and Promise of Austin, at the Performing Arts Center on Thursday night. The film featured clips made by students from every high school in the school district. Many important faces were at the event, including Superintendent Dr. Paul Cruz.
"It's so exciting because our students created the films, it really is a collection of their work," Cruz said. "As educators, we want to hear from our kids and see their work and see our students shine."
AISD: The Pride and Promise of Austin featured the clip, "A Day at Austin High," produced by senior Matt Perry, a K-AHS student. He attended the event and was treated to a red carpet arrival with senior Ally Costa, who was also featured in the film.
"This film took two weeks. One week for all the hard work, and then the second week to reshoot one shot," Perry said. "My whole team has worked really hard this year, and [this premiere] is a really great way for us to get recognition."
K-AHS advisor Gil Garcia was also at the event, along with many other media arts teachers to help support the work that their students have created.
"It's great for Matt to get the recognition that I have felt he has always deserved. And to see it on the big screen at the new PAC is one of my proudest moments of this year," Garcia said.
After the film, many of the student filmmakers sat on stage for a live interview, in which they took questions from the audience. The panel was moderated by Hema Mullur of KEYE-TV.
"I liked that [each high school's film] showed the high schools as a family," senior Lanier student filmmaker Josh said, . "With the seniors at Lanier, we all know each others names, and we all hang out together."
Senior Tyshelle Perry directed and starred in the film showing a day in the life at LBJ Early College High School. It featured her interests and how she pursues them at LBJ, such as academics and playing basketball.
"My favorite about making the film was working with the people in my class to edit it and put the music behind it, and then put my voice behind it," Perry said. "It was a fun project."
The final film of the compilation featured a "lip-dub" of the song "Rather Be" by Clean Bandit. Student filmmaker Yohel Galindo directed the video.
"I really liked how all the groups and organizations came together and were supportive in making this video happen," Galindo said. "It was like awesomeness and chaos at the same time."
The film's purpose is to give people an opportunity to take a look inside of each of the high schools in Austin ISD, from a student perspective. The films show a sense of family in each school, and foster community engagement.
"[AISD: The Pride and Promise of Austin] will demonstrate to our community what our schools are about," Dr. Cruz said. "We will see from watching the films that students are part of a family. Media is such an important part of our lives, having opportunities like this provide hands-on experience for students."
The trailer for the film is available to watch at: http://www.austinisd.org/prideandpromisefilm.