Goodwyn Brings 36 Years of Experience to Swim Team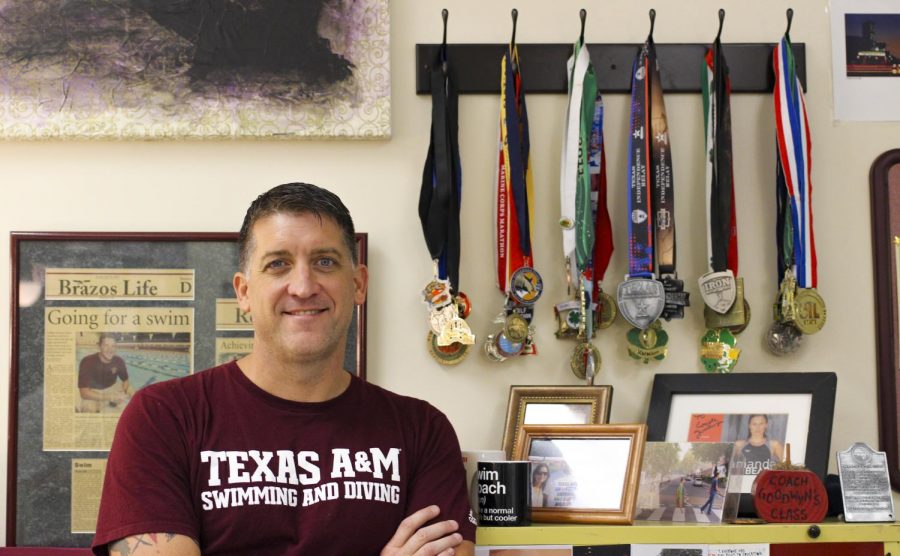 Juan Montelango, Staff Writer
September 16, 2019
Joining the staff this year as swim coach and ACS English teacher, Ryan Goodwyn is not used to being the new kid. 
 Goodwyn recently moved to Austin after living in College Station for 35 years. He is a former A&M swimmer and has been coaching for 23 years and teaching for 21. He began swimming in 1983 when he was in the 5th grade.
"My wife and I were ready to try something new," Goodwyn said. "However, I had a moment of panic by myself because there are a lot of things I didn't know how to do; however, I calmed down once the kids came in and we got comfortable." 
Goodwyn developed a passion for swimming because he grew up swimming with his father.
"My dad was an athlete so we were always active, doing things together, he taught me how to work hard and enjoy it," Goodwyn said.
Although Goodwyn grew up being an athlete, he also considers his effect on his students and other things around him.
"It was scary, exciting, a real adventure, and it was scary to be walking in and not knowing what I'm doing," Goodwyn said.
 Goodwyn had that moment of being scared, but it didn't change the way he did things. He still coaches like he always has.
"He is a really good coach and enthusiastic and makes our team feel like a family," senior Lydia Heisel said.
Although Goodwyn has already made the team feel like a family, it took him time to get where he is now.
"I got more confident the longer I coach and teach kids, I feel like I know how to work with kids and make them better," Goodwyn said. "I love to help kids and help them avoid the mistakes I made, and I want to leave this world better than when I found it."