Varsity Football Tamed Jaguars to Secure Second in District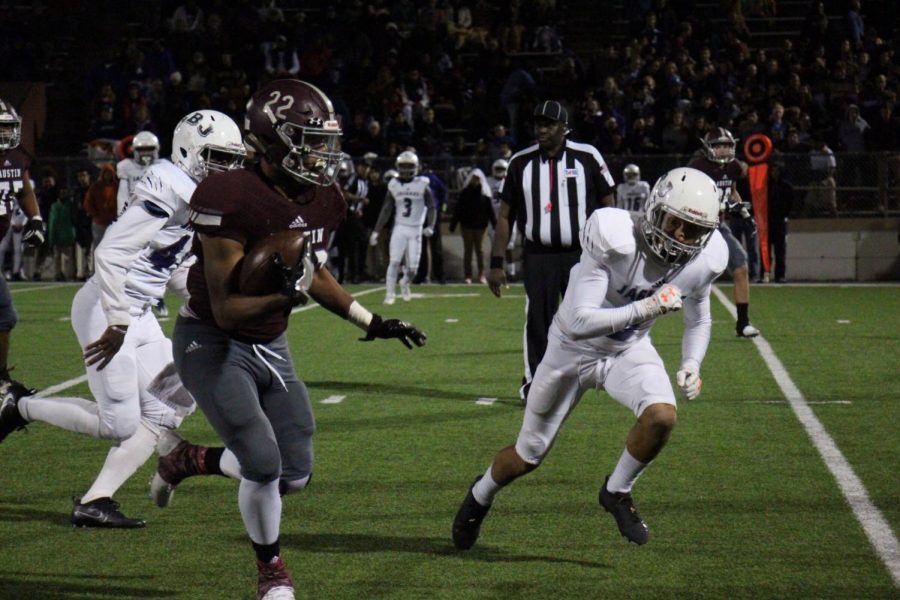 Final Score: Austin 42 – LBJ 34
Recap: Varsity football vs LBJ started out as an evenly matched game, but the Maroons showed their dominance early on when they recovered a fumble and ran it in for a touchdown. Throughout the game Austin never let LBJ  take the lead away from them.
Wide receiver Sawyer Berry attributes the team's victory to a different offensive approach.
"We stay focused," Berry said. "We didn't throw as much as we usually do. It was a lot more running, but we got open enough to get the job done."
Towards the end of the fourth quarter, wide receiver Jadon Alonzo was carted off the field and taken to the hospital for a broken nose and concussion.
"We talked all year about being positive and refocusing after something happens," Coach Mike Rosenthal said. "They've done a good job of that all year, and you never want to have that talk in that situation, but they just did a really good job focusing and playing for their brother."
Overall: 6-3
District: 4-1
District Standings:
McCallum

Austin

LBJ
Next Game: The Maroons will take on Travis on Nov. 9 at House Park.