NAHS Creates Community through Art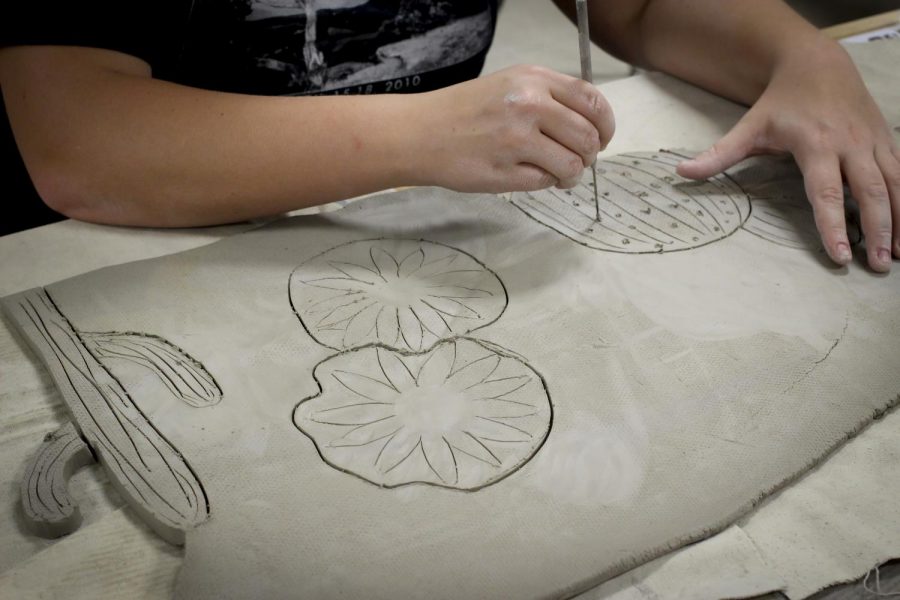 For the past year, the National Art Honor Society has diligently worked on a ceramic wildflower and wildlife piece for a footbridge located on Rundberg Lane in North Austin. This footbridge, located between the Little Walnut Creek Branch Library and the North Lamar and Rundberg HEB, has been subject to graffiti and an overgrowth of weeds in the past.
Ceramics teacher Abby Burnham and painting teacher Emily Banks have been working alongside McCallum art teacher Kerry West and the corresponding NAHS chapter on this one-hundred foot long and three foot tall project.
"McCallum Fine Arts students have created ceramic tiles of Texas wildlife. They create tiles of owls, birds, and creatures of that nature, while Austin High School students are tasked with creating the flora and fauna of Texas,"  Banks said.
To complete a massive project like this, steady membership and commitment is necessary. However, this has been a goal rather than a reality.
"Club involvement tends to drop off in the spring. We tried to meet pretty consistently, and no one had ill intentions, but it does become a busy time with sports and college," Burnham said.
Since 1976, The National Art Honor Society has provided creative students with a space to further enhance their artistic capabilities and become further involved in their area. The club aims to further enhance their school and community environments through art work. This can be seen in the various murals throughout Austin High, as well as at the Deep Eddy Pool Mural, which Burnham herself worked on in 2011.
"Art improves lives in so many different ways, and when communities don't have access to it, then they're missing out on that great opportunity. ," Burnham said.
The beautification project will turn an otherwise empty concrete wall, into an art piece created by dozens of AISD students.
"This project is really going to bring beauty to an area that doesn't have a lot of focus. It's not downtown, it's not one of the areas that is in the process of being gentrified, it doesn't draw a lot of attention to it, and it's not the hot new neighborhood. It's going to bring the families and community members something that they wouldn't have gotten if there hadn't been a push to help beautify these neglected areas," said Burnham.
Banks and Burnham both acknowledged the student community and bonds that are formed from working on this project with so many other creative minds while beautifying otherwise drab areas of Austin. They hope that the installation will finish this January.