Freshman Steps Up to Play Varsity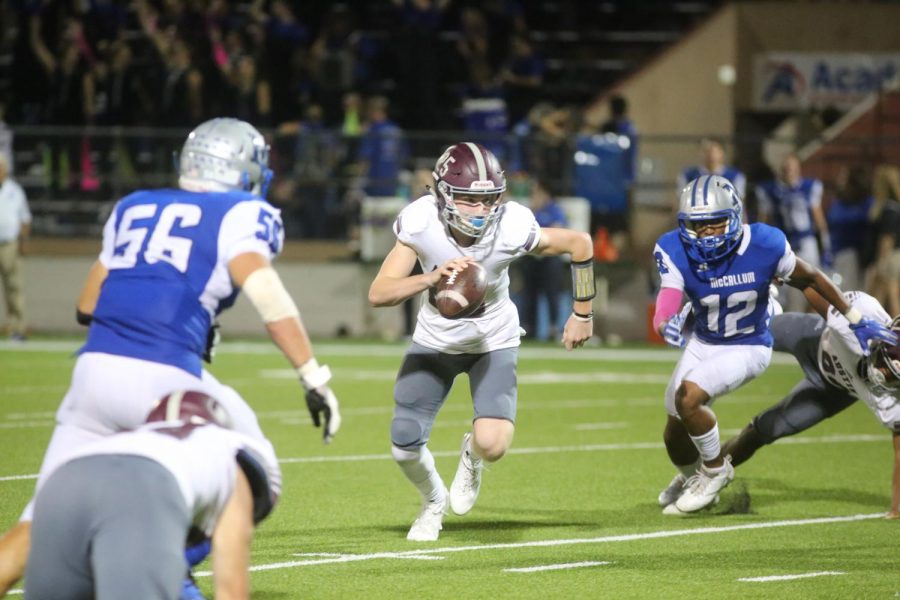 Due to a series of varsity injuries, freshman Charles Wright took the field for the first time as second string quarterback during the game against Anderson on Friday, Sept. 22.
"It was pretty humbling just to be on varsity as a freshman. Pre-season I was wanting to make my way towards varsity," Wright said. "I think I played varsity because of the possibility of other quarterbacks getting injured and just my work over the summer and what they saw in me."
Wright impressed the coaches with a good game so, he was promoted to varsity.     
"I will be in upcoming games on varsity," Wright said. "I think playing on varsity was just tougher because the players were way more faster and bigger, so I just gotta you know tuck the football and really do what I'm supposed to do, but I think the varsity players have helped me out a lot just with pre-game and all that. They were really helpful with the whole game situation."
Wright started practicing football at the age of five and has been looking forward to being on varsity since he was young.
"When I was in kindergarten, I started playing flag football," Wright said. "I usually try to warm up just like I warm up in the game. I have a ritual everyday, I just try to do that."
Telling the freshmen the news that he would not be playing with them at the game because he would be playing on varsity was a struggle, but his teammates were supportive of his promotion.
"It was definitely hard for them to take that news just because they just didn't really know how to handle it without their quarterback for the game, at first they were disappointed but they were also happy for me. As the days went by, they were behind the decision and they were happy for the backup quarterback to get some reps," Wright said.