Varsity Players Take Knee to Support Protests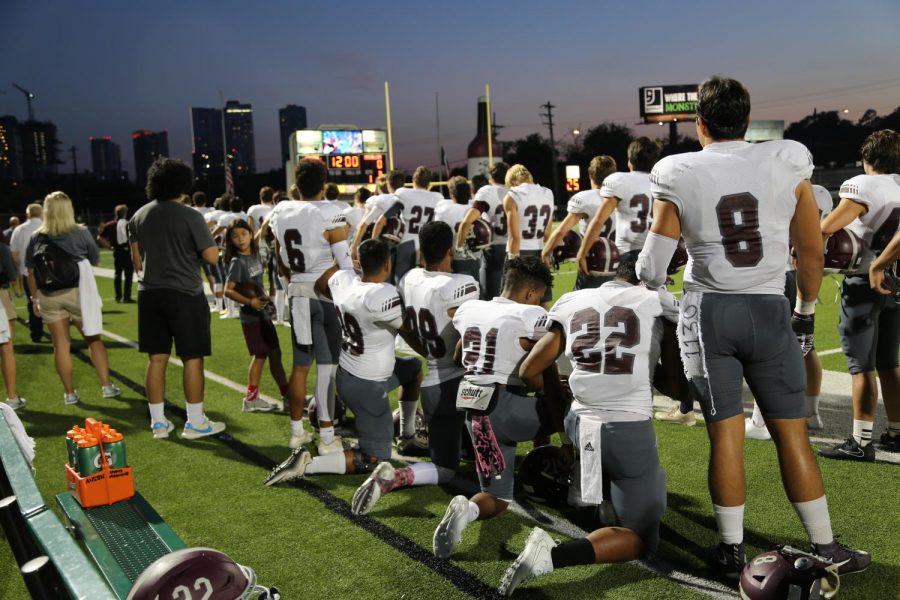 Before varsity football's first district win against Akins, half a dozen Varsity players took a knee during the presentation of the National Anthem.
The peaceful protest comes following a wave of similar protests among professional athletes and NFL teams. The trend began a year ago when former San Francisco 49ers Quarterback Colin Kaepernick got down on one knee during the anthem. Since then, hundreds of college and professional athletes have followed similar paths and taken to the sidelines during the Anthem. Similar protests have occurred throughout the school district. On Thursday night's loss against McCallum, multiple McCallum cheerleaders joined the players in taking a knee on the sidelines.
In a statement given to the Austin American Statesman, Head Coach Mike Rosenthal said he supported his athletes demonstration.
"I've talked with each and every one of those kids and we've discussed the issues, positive and negative," Rosenthal said. "I'm really proud of them. They stand up for their values, and I support them with their values."
The football players who decided to take a knee were reached out to for commentary, but chose not to provide a quote.