New Swimmers Crowned in King and Queen of Springs Tradition
Hang on for a minute...we're trying to find some more stories you might like.
Sophomore Emmy Francell and senior Nathan Marsales were crowned champions of the swim team's 16th annual King & Queen of the Springs. The competition consists of a 3 mile run from Deep Eddy to Barton Springs and a ¼ mile swim in the Barton Springs pool.
"There were close races between two of the guys and two of the girls. It's good that there was some good competition," swim coach Drew Calver said. "Whoever wins, it matters, but it doesn't really matter because it's just a fun event we do as a team."
In previous years the competition was primarily won by upperclassmen, but Francell broke tradition this year.
"I feel good [winning], but I hurt," Francell said. "We were running and Kenzie beat me on the run, and I guess I beat her on the swim. It was a really close race."
Parents met the contestants at the end of the race, where they cheered them on as they completed the swim portion of the race.
"It's been a lot of fun and a lot of work [supporting Emmy]," parent Jeff Francell said. "I'm very proud of her."
Marsales explained that there was more to the competition than winning.
"I think this is a fun event that the swim team does. Even though not everyone has the chance to be in first place, everyone has the chance to do the race as a team," Marsales said.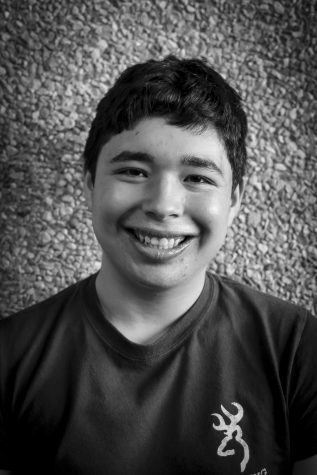 Auston Abrego, Creative Director
Hi, I'm Auston. This is my third year on staff, and I love all things design. I enjoy turning short trips into long chaotic adventures. I firmly believe...