20 People per Minute Physically Abused in the U.S.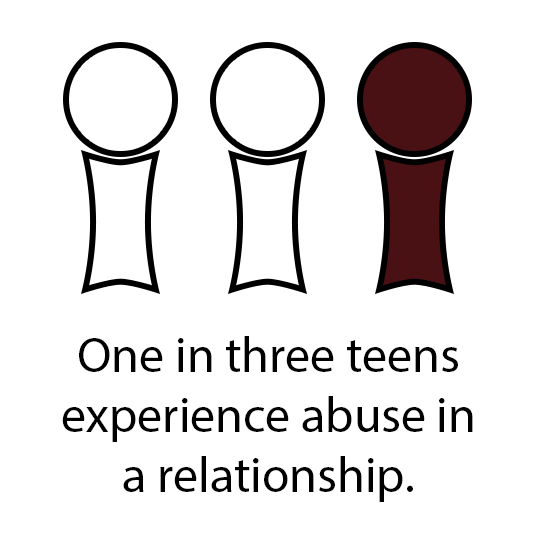 Hang on for a minute...we're trying to find some more stories you might like.
According to the National Intimate Partner and Sexual Violence Survey (NISVS), on average, nearly 20 people per minute are physically abused by an intimate partner in the U.S. During one year, this applies to more than 10 million women and men. Abuse is an important yet misunderstood subject often not talked about, but the signs can be seen from the very first date.
"Abuse can be physical, and one might see signs of injury," counselor Sherri Patton-Grubb said. "Abuse can also come in the form of intimidation and threats, verbal abuse, isolating the target from social/emotional/financial support, etc. Any sudden, drastic changes in behavior should be cause for concern."
Studies show that 1 in 3 teens, both boys and girls, experience abuse in a relationship. According to FamilyDoctor, Signs of abuse may include the abuser being extremely jealous or possessive, constantly putting the partner down, making all the decisions, and embarrassing or humiliating the partner. The partner may have stopped spending time with family or friends, have unexplained marks or bruises, lost interest in activities they once loved, dresses differently (i.e. wears baggy clothing to hide their body,) frequently checks in with the abuser and returns messages immediately, worries how the abuser will react in a given situation, or blames themselves on how the abuser acts.
"Being the target of abuse can leave a person feeling afraid, hypervigilant, isolated, and sometimes even suicidal," Patton-Grubb said. "It is possible for a person who has been abused to develop a condition known as post-traumatic stress disorder which can lead to intrusive thoughts about the abuse experience, nightmares, difficulty forming healthy relationships, and other symptoms."
In Why Does He Do That? By Lundy Bancroft, Bancroft talks about how and why victims of abuse often don't say anything about it. Those reasons may include: the victim blaming themselves, not realizing abuse is happening and/or think being treated that way is normal, the abuser threatens them, societal stereotypes (i.e. women are dramatic and emotional, guys should feel lucky if that happens), and victim blamers.
"People who blame the targets of abuse are usually people who lack a good understanding of how abuse happens," Patton-Grubb said. "Abuse is about power and control. Abuse is never the fault of the target."
Bancroft states we can help those who have been abused by listening to them, not telling them what to do because the abuser tells them what to do constantly.
"We can help a person who is the target of abuse by understanding that the abuse is not their fault, and by knowing what resources are available in the community to help the person escape from the abusive situation," Patton-Grubb said. "We can help those who may be recovering from an abusive situation by again, understanding that it is not their fault, and offering support, encouragement, and friendship as they navigate the journey toward healing."
Abuse hotlines: National Child Abuse Hotline (1-800) 4-A-Child or (1-800) 422-4453, The National Domestic Violence Hotline 1-800-799-7233 1-800-787-3224 (TTY), loveisrespect 1-866-331-9474 or 866-331-8453 (TDD).   
"There are groups all over town that teach anyone empowerment and signs to look for in people they're dating or in friendships, or even in their home relationships that will teach them how to create boundaries, how to properly protect themselves, how to get out of those situations," counselor Camille Nix said. "I think being honest and getting help from someone, whether it's someone on campus or a trusted adult, friends, parent, something like that, where you're getting help and telling it to a responsible adult."