Varsity Football is Ready to Play in 6A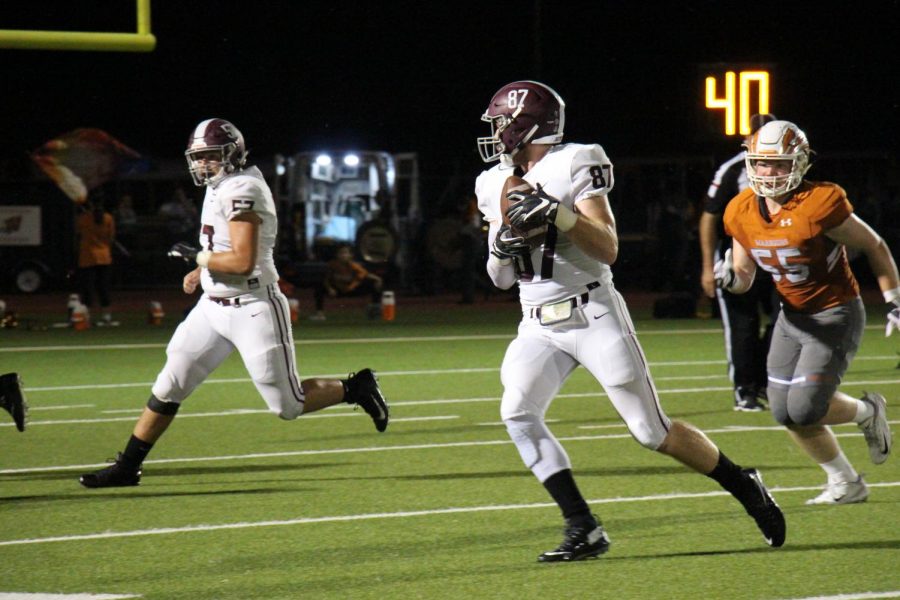 Noah Whiteley and Liam Quigley
September 8, 2018
With the football season underway, being back in 6A will affect both the team and what the future will hold for Maroon football.  6A might cause more challenges according to the head football coach, Mike Rosenthal, since our competitors have larger student bodies.
"When we decided that we were going to increase enrollment and go to 6A, we were going to embrace that challenge and go after it," head football coach Michael Rosenthal said.  "It's exciting to get back into that district. We were there two years ago and with the same district, the same opponent. So not a whole lot has changed since we left."
With old opponents and new challenges, having varsity caliber players up for the 6A challenge and the values they carry is vital.
"The easy answer is, size, speed, and strength and then trickle down to dedication," Rosenthal said. "Obviously, I would probably put dedication and work ethic higher than that. But if I'm an NFL GM, I'm looking at size, speed, and strength first."
With challenges ahead of varsity support from their fellow maroons will be desired more than ever, according to Rosenthal.
"I think being at House Park or any other venue that we play it is it's a lot of fun on Friday night," Rosenthal said. "It's a lot of fun to get the school spirit and get behind the cheerleaders and the red jackets and the band. It's a great environment, especially home games. At House Park, you'd see the skyline but come and see us. We throw the ball around a lot on offense. So it's a fun fast paced game. And defensively, we are really aggressive. So to me, it's a great game to watch"           
With the fans support and embrace, the growth and readiness of a new season encourages the team.
"The big thing is just staying positive, I think for the longest time we've had this negative connotation at Austin high where you kind of for lack of a better term want to be a hater," Rosenthal said. "To me a lot of our teams really all of our teams, all of our extracurricular  activities put a ton of work in whether it's band, red jackets, cheer, debate, there's a ton of great kids doing a ton of great things on campus and they put a ton of work in and for us."
Rather than focusing on just football, Rosenthal suggests that the students focus on all extracurricular activities to dispense the school's sense of community.
"It's supporting one another it's recognizing how much work they do put in and just being supportive because I think in this day and age it's hard to put yourself out there a lot and you got a lot of kids out there in our school doing positive things and I think we should reward them with excitement and passion behind them," Rosenthal said.