30th Annual Monster Concert is a Success
Hang on for a minute...we're trying to find some more stories you might like.
The orchestra hosted its 30th annual Monster Concert where students perform and learn from each other. A massive crowd came to our campus to support not only the orchestra students and teachers, but also the local community. Orchestras from all over AISD came to perform and celebrate Halloween.
"I think that we were very successful, we had a good crowd and people were smiling. I even still get people coming up and telling me they enjoyed it," orchestra director Ana Maria Solis said. "I saw people were having a good time and that is my goal for people to have fun and have a good memory of orchestra."
This event is important for orchestra because it is their largest fundraiser and provides the biggest opportunity for publicity of their program.
"I would want to have more orchestras come, you know make the program bigger and larger, almost like an orchestra day," Solis said. "Many programs in the district have already contacted me about coming and performing."
The Monster Concert is also an opportunity for students to receive service hours or credit for AGS, AVID, and NHS.
"We struggled getting enough volunteers so it felt like at the last minute we were scrambling," Solis said. "It is an event that requires a lot of volunteers, I think that some people just didn't know that it is an event they can volunteer at and get hours for programs."
With carnivals as big as this one there are always going to be issues but the orchestra students work to ensure the carnival runs smoothly.The haunted house is the biggest attraction that makes the most money and brings the most publicity.
"I honestly was expecting it to be a lot less organized because I had few resources, but to my great surprise, the orchestra students loved their roles so much that they came by to act again even though they were not signed up for it," sophomore Tatiana Brown-Gomez said. "Also the actors and I came up with new ideas throughout the whole process to make the haunted house run a bit smoother."
The production of the haunted house and the booths rely heavily on the students which makes the carnival a bit more interactive.
"All of the actors in the house had a fun time, especially the guides and theatre students that helped," Brown-Gomez said. "They were so into their roles that they made people scared and they left in the first room. Everyone worked really well together and got to meet new people."
Student bands and others were encouraged to use the sound system provided and play for the carnival attendees.
"We had Mother Falcon who were so great. I wish that I had done more promotion for the bigger artists that we get sometimes," Solis said.
For the students and Solis the concert is about letting the incoming kids have fun and enjoy a part of Austin High, also to bring more publicity and raise school spirits.
"Monster Concert is a great experience whether you're playing, acting or just there to have some food, you'll definitely have fun," Brown-Gomez said.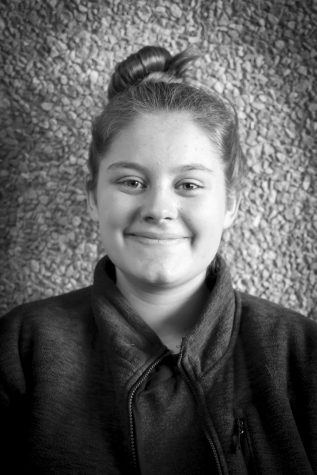 Angie Black, Editor In Chief
Hi, my name is Angie, and I am a third year writer for our lovely Maroon. I also play the viola in Chamber Orchestra. My passions are reading, laughing,...