A Cure Worth Taking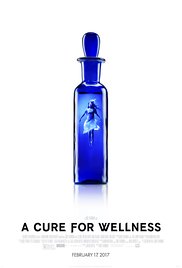 Hang on for a minute...we're trying to find some more stories you might like.
A Cure for Wellness is a psychological thriller directed by the visually talented, Gore Verbinski, who has been recognized for creating the Pirates of the Caribbean trilogy, Rango, and The Ring, one of the greatest horror films of the last decade. Upon watching the film's trailers, I felt very skeptical about this movie, because I thought it would either be a very engaging thriller, or a tedious bore. After watching A Cure for Wellness, I guarantee you that this movie is Gore Verbinski at his absolute finest. It's a creepy, twisted psychological horror flick that brings a new and inventive approach to the genre.
The film is about Mr. Lockhart, a young aspiring executive of a multi-million dollar company, who is sent to the Swiss Alps to retrieve the corporation's CEO who is recuperating at a remotely peaceful, but mysterious wellness center. Lockhart's simple assignment spirals out of control when he is brutally injured in a major car accident, and wakes up only to find himself in the wellness center as their newest patient. While Lockhart is recovering, he begins to discover the unknown, horrifying secrets that lurk inside the facility. It's up to him to not only find the CEO, but to unravel the center's dark mystery, and to hopefully escape the wellness center alive.
Dane Dehaan who has been in many recent films like Chronicle plays the young, ambitious Mr. Lockhart and he is absolutely terrific, playing what might be one of the greatest roles he's done in a film. What makes Dehaan excellent in this movie is how convincing and how perfect he portrays his character. In every scene, you feel like Lockhart is desperately trying to escape this hellish asylum of a wellness center, and during truly disturbing scenes of torture, you feel worried for the character. Other actors like Jason Isaacs, as the cunning and deceptive director of the wellness center, Volmer, and Mia Goth, as the frail and gentle Hannah, do extraordinary jobs as well.
What makes Verbinski shine as a filmmaker is his attention to detail and visual creativity. One of the biggest filmmaking elements that Verbinski utilizes in this movie is the hauntingly beautiful cinematography. The opening shots of skyscrapers and company buildings shown, aerial shots of mountains and clouds, and even the wellness institute, are simply stunning to the eyes. One of my favorites is a shot of a female patient floating underwater circling around slowly. That shot alone was not only breathtaking, but it also conjures up a fantastic sense of creepiness in a very stylistic manner. It's one of those key techniques that Verbinski used in The Ring, and it absolutely shows in A Cure for Wellness.  
As much as I adore this movie's imagination and quality, there are a few drawbacks that drive the film from being a film I loved to a film I liked. Aside from being a bit slow in the first act, the majority of its faults somewhat lies in the screenplay. Not that the screenplay is terrible by any means; I think the story of the movie overall is pretty great, but it's a bit predictable at parts. There are moments of tension and mystery that make you feel like you know exactly where it's going, and there are twists and turns that you can see coming before the movie's climax. However, despite how predictable the film may be at points, I still enjoyed the movie because I was still invested in the film's interesting story and its well-developed characters.
Despite a slow start and its fair share of predictable moments, A Cure for Wellness takes the psychological thriller genre to a new level, with its illustrious direction, haunting cinematography and atmosphere, admirable performances, and well-written characters. However, I'd like to make a quick disclaimer before you see the movie: if you're a person who is not into disturbing acts of torture and gruesome violence in movies, this is not going to be the movie for you. However, if you are okay with it and you just want to see a very good psychological thriller to watch with a group of friends, go right ahead, you'll enjoy it as much as I did. Gore Verbinski has finally given us a cure we've been longing for.