Binge on Unfortunate Events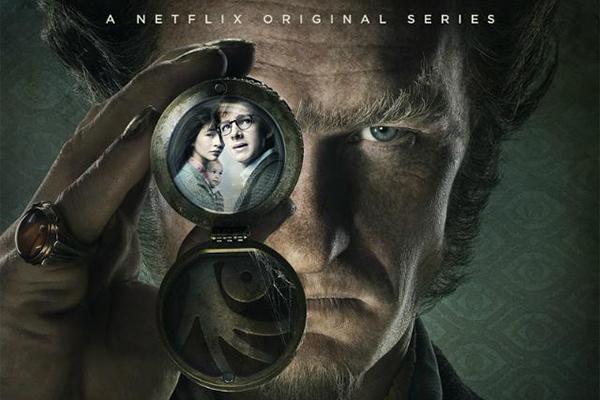 Hang on for a minute...we're trying to find some more stories you might like.
A Series of Unfortunate Events is a new family-oriented Netflix series based off the book series by Lemony Snicket. The show repeatedly warns you to change the channel to a happier show before you get invested in the unfortunate and sad lives of Sunny, Klaus, and Violet Baudelaire.
The children's adventure begins when the kids are told their parents died in a tragic and mysterious fire and are in the hands of Arthur Poe, a clueless and self-centered banker in charge of their parents' will. Poe first gave the children to their closest living relative (as in the closest relative to their house) as the will stated, so Count Olaf, first received the children. Count Olaf is an evil, horrible, no-good actor who wants to steal the children's inheritance. Olaf uses his loyal theatrical troupe to create plans to stalk and kidnap the children using whatever means is necessary in order to get his hands on their fortune. While A Series of Unfortunate Events tells a rather unfortunate story, it is a spectacularly entertaining and rather odd series you need to binge watch this weekend.
Overall the cast had great chemistry. The acting felt natural and the relationships weren't forced together. Violet, played by Malina Weissman, is a loving and caring older sister, and Klaus, played by Louis Hynes, is incredibly smart and nerdy but in a non-irritating or annoying way.  Neil Patrick Harris has an incredible performance as Olaf and really makes you feel as if you were one of the Baudelaires experiencing his creepy, evil, and uncomfortable presence. K. Todd Freeman also does a very good job as Mr. Poe, making you feel as though you were in the show and were frustrated like the children because you were unable to get through his narrow mind that Olaf was in a disguise and posing as someone else.
The show is written to be a timeless piece of art. There are elements from the past and the present day and the costumes incorporate styles from multiple decades making the show feel as if it is in its own world. The show also stays true to the books so it doesn't disappoint any loyal fan either.
A Series of Unfortunate Events is the best show of the year so far. It is so weird, making the show have a certain charm. I'd definitely recommend the show to anybody and everybody
⅘ maroons