President Corrupts the Feminine Morale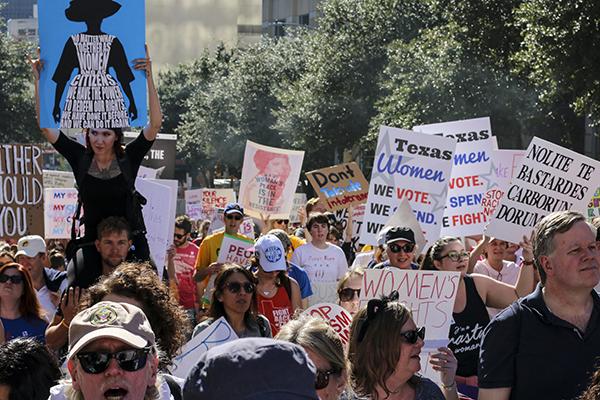 Hang on for a minute...we're trying to find some more stories you might like.
Think of your mother. Your grandmother. Think of the women you look up to, the woman you most respect. Think of the 3,672,857,286 women in the world (2017, United States Census Bureau). Imagine the President of the United States boasting about grabbing these women by their you-know-what's.
After accusations were popularized in response to behavior revealed by mainstream media, many excused Donald Trump's behavior as "locker room talk," condoning our president's remarks as typical banter amongst men. This is disturbing. This weak justification assumes that all men engage in casual conversations about sexual violence against women. It is not untrue that boys and men indulge in their fair share of "locker room talk," boasting of sexual encounters and using crude language to add emphasis. But being a teenage boy and saying dirty words is much different than engaging in rape culture. For Trump, and some of his supporters who defended this so-called "locker room talk," bragging about sexual violence against women is apparently commonplace.
Especially in 2017, condoning sexist undertones which excuse rape remarks as everyday language simply doesn't make sense. But it is concerning, as it teaches impressionable media-consumers that rape culture is acceptable. It teaches boys that asserting sexual dominance is an asset to power and fame, and it teaches girls that sexual violence is normal and shouldn't be challenged.
Sexual violence isn't a gender issue, and it isn't a women's issue; it's a human issue. When one person feels that they have exclusive access to another person's body at any given moment, despite the other person's wishes, it is a fundamental violation of human rights.
Beyond Trump's disregard for basic human rights, his everyday attitude towards women encourages countless demeaning stereotypes, leading to, amongst other things, the over-sexualization and degradation of all women.
Popularized in mainstream media were the damaging remarks Trump made to Miss Universe and calling Rosie O'Donnell an "animal," an "extremely unattractive person," and a "slob." But this incident isn't the only one. In 2012, he tweeted that Arianna Huffington "is unattractive both inside and out. I fully understand why her former husband left her for a man — he made a good decision." On Celebrity Apprentice: All-Stars in 2013, he publicly fantasized about the "pretty picture" of Brande Roderick "dropping to [her] knees." He called a lawyer, Elizabeth Beck, "disgusting" after she asked for a medical break to pump breast milk for her 3-month-old daughter.
Aside from making demeaning comments towards women, our president doesn't seem to have many plans lined up to benefit women. Trump's policies on abortion would "kill women" according to Rolling Stone because they are so unsafe. Trump proved his ignorance about women's health when he claimed "you can take the baby and rip the baby out of the womb on the ninth month on the final day," a statement that is simply false. Trump's indecency towards women was ultimately demonstrated in the Women's March across the United States and the world. If an entire gender holds a protest against you, you'd think the message would be clear.
What I don't understand is how anyone, women especially, could vote for a man who has referred to women as "pigs, dogs, slobs, and disgusting animals" on multiple occasions. A man who discussed sexual assault casually. What does this say about the way Americans view women? What does this say about how we prioritize respect, the emphasis we place on sexual violence? The fact that an old white man, with more privilege than most humans, can get away with striking disrespect and still come out of it with a large following is embarrassing to our country. The fact that Americans were willing to overlook his behavior and deliberately fail to address the effect it has and will continue to have on Americans is disgusting. In what galaxy is this the man Americans trust to advocate for our needs?
Trump's misogyny and shameless disrespect, in general, doesn't send a good message, to anyone, but especially to young girls. Witnessing the president blurting out ruthless messages that generalize, slut shame, and simply undermine women could threaten young girls' self-esteem and their sense of security. Many young people won't know the influence of any other president other than Trump, which places him at the forefront of what they perceive the presidency to be. It is a foreboding thought, the image of Trump in any kind of role model position, but it sends the backwards message that bullies win. For girls, this gives them the idea, from a young age, that they can be treated without respect. Trump's sexist rhetoric has consequences for young boys too, who while beginning to navigate their sense of masculinity, may take misleading cues from our president's treatment towards women and girls.
Remember not to waver in your integrity. Stand up straight with dignity, root yourself in respect. Be the change. Choose your words wisely. Spend your money with care. Educate yourself. Be unafraid; use your voice and discover its power. First, advocate for women's health and women's safety.  Next, support women, encourage women in leadership. Practice consent, always, no matter what (NO MEANS NO!). Right now is the time to exercise the power of your voice. Remember that each of your words carries weight; choose them wisely and decide whether you want to contribute to a generation moving towards equality, awareness, and mutual respect, or whether you're comfortable sitting in the muck of today's racism, sexism, classism, mentalism, xenophobia, homophobia, Islamophobia, transphobia, etc. (the list goes on folks). Most of all, always remember that every decision you make affects those around you. Don't quiet down in the face of injustice. Speak up, test those vocal cords, and treat others with respect.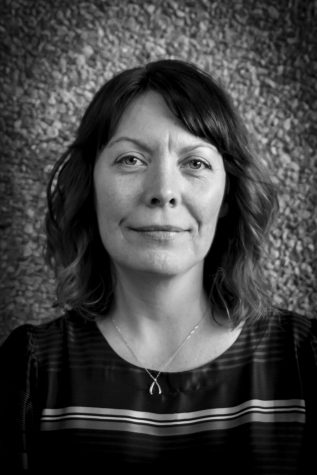 Jena Weber, Adviser
This is my second year at Austin High, and my 16th year advising student publications. I love my job and the work these kids do. I am obsessed with Boston...