Cool Down with Juiceland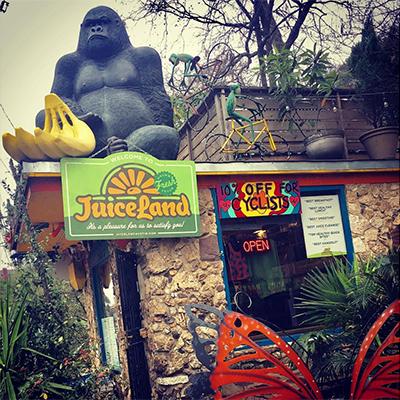 Hang on for a minute...we're trying to find some more stories you might like.
When we pulled up to Juiceland, we noticed a lot of greenery; it made the space feel like an overgrown garden. They had lots of random little trinkets scattered around the area; fun little things that make the place feel more homey.  There were also a lot of benches and swings to sit on. When we walked in, there was a ping pong table to use while we waited for the drinks. The location is also great, it is just a 10-minute walk from Austin High, so for those of us who can't drive yet, it's very convenient.
While we were there, we ordered a Ta Tonka and a Raspberry Hooray. The Raspberry Hooray was very refreshing. With the delicious combination of pineapple juice, banana and raspberries, this smoothie is one of my favorites. The acidity of the pineapple juice was dulled by the banana and the raspberry adds a nice tangy flavor to the mix. The Ta Tonka is made with strawberry, banana, almond milk, and whey protein. It tastes like it's a regular strawberry banana smoothie but the whey protein and almond milk makes it taste like nothing you have ever had before, despite its simplicity.
While the juices were amazing, the prices are a little high for high school students, but they are not unreasonable. The exact prices vary on what size and what smoothie you want. The smalls range from $4.95- $7.94, the mediums are from $6.25-$9.95 and the Larges range from $8.25- $12.95. Those prices are exclusively for smoothies, plain juices are a little cheaper.
Overall, Juiceland is a great place to go to cool down and get a great smoothie after school. While the prices may be a little high for a student, the great smoothies, atmosphere, and location make up for it completely. This place is definitely one I will be returning to. Overall, we give Juiceland 4.5 Maroons.