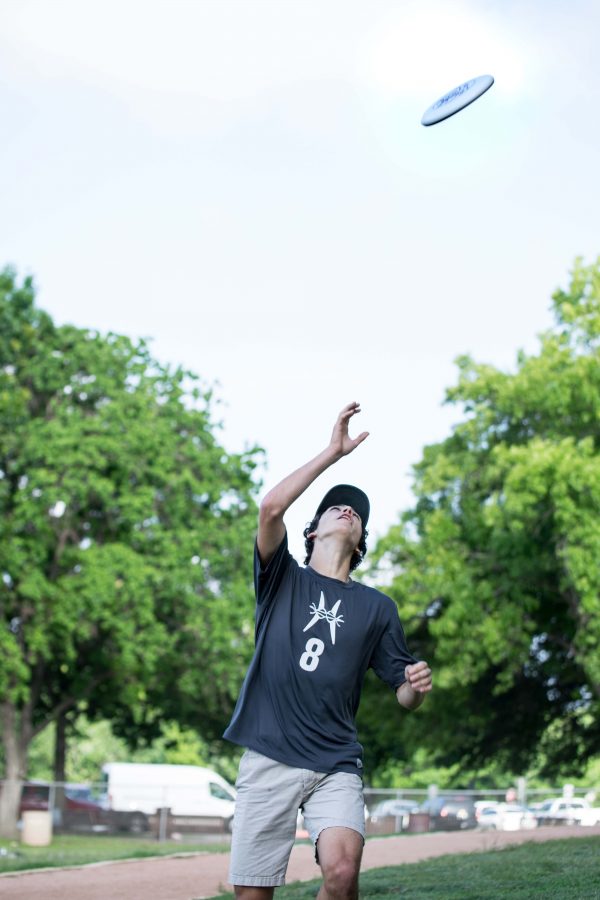 The Ultimate Catch
He runs across the field, his cleats tracking in the mud, the sun beats down as the sweat rolls off his face; he dives for the plastic disc. Co-captain Junior Elliot Moore began playing Ultimate Frisbee at the age of eight.
"I started playing Frisbee in 2nd grade and I loved the intensity and athletic play of it while still maintaining a non-contact sport," Moore said. "I just loved to run deep and catch the frisbee in the end-zone."
Moore plays for the school team as well as having been a part of a club team that went all the way to nationals. Being out on the field with hundreds of people watching was a thrilling feeling that Moore enjoyed.
"There were like 300 people watching and that was probably one of the best feelings in my life," Moore said. "Just scoring and having people cheering with white noise everywhere; it's a pretty awesome feeling."
Moore has established new friendships by being together on the teams.
"My favorite part about being a part of the team is meeting people that I have never met at the beginning of this semester and seeing them become better at the game," Moore said. "Seeing them during the games three days after practice and totally destroy using a defense we just learned that week during practice."
Moore has brought energy and also has the determination to having a great match each time he plays.
"I would say I bring experience to helping my team. I have been playing for a long time and I have played at almost every level possible for me to play at 17. ," Moore said. "I would say I am also a pretty intense person and I think that really energizes my team to go out and play their hardest."
"
I know what it takes to win and I know how to tell my team what it takes to win"
— Junior Elliot Moore
Both Moore and the team have improved by working on their technique.
"We have since then all gotten better at basic techniques like how to make a good cut and working on throws," Moore said.
Moore attributes his skills in the sport to his history of playing football.
"I used to play football for four years and I think that has helped me be a captain for this club team," Moore said.  "When I first started playing football I was a small scrawny kid who didn't like to tackle or get tackled, but I still loved football. I learned how to sacrifice my body for the sport that I loved and also how to talk to people in that type of environment."
Moore receives much support from friends and family as he maintains dedication to the sport.
"My parents and teammates on the club team that I have played on have always come out to all my games."
Popular amongst Ultimate players, Moore looks up to Brodie Smith who began his fame in high school where he moved to play in college and went off to play professionally.
"Brodie Smith is actually making money off ultimate frisbee which basically no one else is doing," Moore said. "I think that's pretty cool."
Moore plans to follow in his idol's footsteps and take Ultimate with him in his future endeavors.
"I would like to play in college and get the Callahan award, that's basically the Heisman of ultimate frisbee," Moore said.
Moore carries many leadership traits that help make him a great leader of his team.
"I love the sport of Ultimate Frisbee," Moore said. "And I always want to play the hardest  I possibly can because that is what I enjoy most."