School Share
District program broadens the high school campus
Hang on for a minute...we're trying to find some more stories you might like.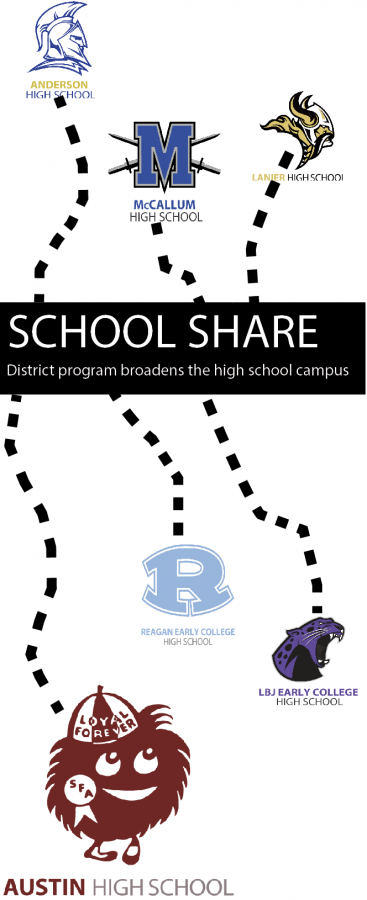 Beginning in the 2016-2017 school year, every school in AISD will be implementing the School Sharing Program. This program allows students with interests in classes not offered at their school to sign up to take those classes at schools that do offer them. While this program is not entirely new to the district, it will be new to Austin High.
"The program was started a year ago. The superintendent wanted to cater to students who were interested in other things their school didn't have to offer, so they came up with School Share or Student Share," culinary arts teacher Esther Joucken said. "Last year our principal opted not to do it. This year, AISD is really encouraging everybody to participate."
The purpose of this program is to provide every student with access to classes they want to take that aren't typically available district wide.
"We hope to better serve the needs of all students throughout the district," Assistant Principal Steve Maddox said. "Having more program choice can be a way of increasing efficiency of course offerings."
The program offers the following classes: Ag Mechanics, Veterinary Medicine, Horticulture, Cosmetology, Health Science, and Law Enforcement, Firefighting, Automotive Technology, Collision Repair, and JROTC.
"The programs listed are the ones north of the river," Joucken said. "Anything south of the river like Bowie or Crockett and Akins and all those high schools, they have this same program, but different schools might offer different things."
Austin High offers American Sign Language and Culinary Arts to those schools.
"We're the only one north of the river that has culinary, so there're a lot of kids who're interested in it," Joucken said. "What I do is, after Naviance, I find out how many spots I have available, and I let those schools know so the kids can transfer in."
School Share makes it possible for students to take classes at other schools, but it does not guarantee that they will be accepted into the program or be able to take the class they want. Because there is limited space in each class and each school is required to take care of the students zoned for it first, high-demand programs might not be available to every student who signs up.
"
We hope to better serve the needs of all students throughout the district."
— Assistant Principal Steve Maddox
"My program is very popular, so I don't want to take spots from kids who really want them here, so I might expand the number I could take just to accommodate a couple school share," Joucken said. "You're supposed to take care of your kids on campus first and then offer whatever you have open, but some people are so passionate about something. I don't want to deny them acceptance."
Classes available at other schools can only be taken during first and fifth period, with the option of school bus transportation to the school on those mornings. To accommodate this transportation, the schedule will be changed next year.
"Next year, we're going to have a 25 minute period. I don't know what we're going to call it; some schools call it FIT," Joucken said. "The classes are going to be first period that we're going to offer that they can share, so they'll get a bus from their school, come here, have the class, and get back on the bus during that FIT time. In second period, they won't miss anything."
All high schools in the district will participate in the School Share program this coming year.
"It's best for the student and their interests, and if they're interested in something, they tend to stay in school longer and work harder," Joucken said.