AISD Brings Taco Tuesday to Austin High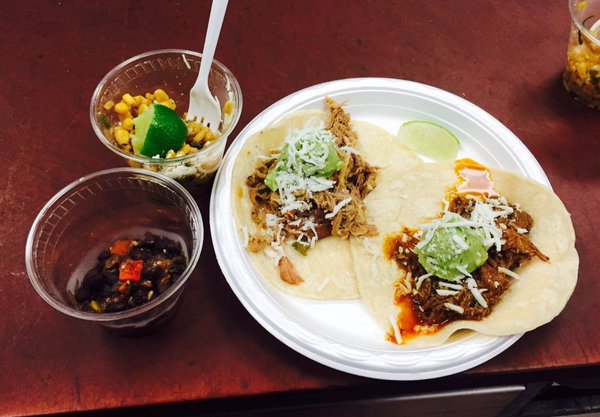 Hang on for a minute...we're trying to find some more stories you might like.
The school has been working toward the implementation of new resources for students at lunchtime. This week marks the first "Taco Tuesday", a new lunch option for students looking for a different and healthier lunch.
"Taco Tuesday will be run by the AISD school cafeteria workers," Student Council sponsor Isabelle Salazar said. "They're super excited about it because it'll generate some revenue for AISD and for Austin High School. It is a special menu so a lot of the orders have to be placed much more in advance than normal so they're already planning for the rest of the school year and for next year for what's going to be added in addition to the tacos."
Taco Tuesday will be the introduction of a menu that will eventually be extended to a concession area on the newly renovated second floor.
"I'm not exactly sure when the second floor taco stand will be opening in the concession area," Salazar said. "I do know that they are starting to serve the Taco Tuesday menu in the cafeteria for right now and then as soon as that kind of picks up, they're going to be moving it to the taco concession area."
Some faculty members have been involved in a special tasting of the tacos that will be offered.
"The tacos I tasted were very delicious," Salazar said. "They were really yummy. They tasted like something you would find on South Congress and the street corn was delicious, so I'm pretty excited for Taco Tuesday."
The drive for the creation of new lunch options has been in the interest of both students and faculty.
"Ms. Taylor and the student council have been working close together for this new option. It was kind of born out of a lot of different thoughts," Salazar said. "We're moving to really upholding the district policy of seniors only leaving campus. We also saw that Anderson has a similar menu with their taco truck and that's been pretty successful. With us being such a unique and diverse campus, we thought that having more food options would be really good."
The new menu options will hopefully entice students to stay on campus.
"They're delicious, all fresh products, all homemade recipes," food production manager Diana Miller said. "We want to meet students' needs by trying to figure out what kids want so we can keep them on campus."
A lack of lunchtime resources has been a concern echoed by many students.
"The current food options aren't great. I see how they are trying to be healthy, but quality-wise it's not the best," junior Paul Pena said. "If they give enough options to where it doesn't feel like all I can do is buy a snack, then I will definitely use it."
The aim of this new option is to satisfy the district's off-campus policy while offering a higher quality alternative.
"I certainly think it will keep them around campus," Culinary Arts teacher Esther Joucken said. "Kids these days, their palettes are a little bit more sophisticated, especially in Austin, than normal teens. They're spoiled because we have all these trailers here, so they want something better to eat."
The incorporation of healthier food has long been a district goal.
"It's really kind of cool because I was in one of the food service meetings with student council and she went over different things in the cafeteria," Salazar said. "They explained why the food may taste a little different because it follows really close FDA standards in terms of how much salt you can put or how much fat is in the food that is served."
Despite these regulations, the development of healthier food selections remains a work in progress.
"There's a lot of room for improvement," Joucken said. "I know a lot of people would still like to see some sort of salad bar, not just pizza and chicken tenders. So, I still think there's a lot of room for improvement on that."
This new option for students is seen as a step in the right direction.
"I think it's really neat that we have this kind of menu that really speaks to our student body, like I think everybody loves tacos, and it's such an Austin thing," Salazar said. "To be able to have it on our campus I think will keep kids here, give us more options, and generate some revenue."